Body Count - Born Dead (1994)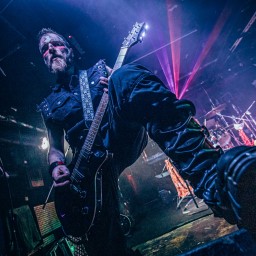 MartinDavey87
/
March 12, 2021
/
Comments 0
/
0
Body Count's 1992 self-titled debut album was a pretty big success for the band. Granted, that success came about due to the infamy and controversy surrounding the song 'Cop Killer', but the record itself was a solid effort. When renowned rapper and actor Ice-T put together a metal band, not many people thought it'd last, seeing it as a one-off endeavour. So it was no-doubt intriguing to see a follow-up released, and how did they capitalize on the success of 'Body Count'?
They didn't.
Released in 1994, 'Born Dead' takes everything that made its predecessor so good, and does away with it completely. The rapping has mostly been replaced by Ice-T constantly repeating the same phrase over and over, with very, very occasional bits of talking. The Lyrics, which once had meaning and were incredibly angry, satirical and lashing out at everything, are now dull, juvenile and pointless. The music seems pretty bland, and hell, even the skits between the tracks are gone. What previously gave the album a loose narrative and plot, is now just one uninspired song after another.
There are a couple of brief instances where the production and sound of the album suffers from dips in quality. I'd guess that this was thrown together in between Ice-T's rapping and acting careers, as some parts sound rushed and disjointed. And a cover of the Jimi Hendrix classic 'Hey Joe' seems so out of place here.
However, it's not all gloom and doom. There's a couple of moments which take me back to Body Count's first outing, and reminds me why this band are so good. 'Necessary Evil' and 'Born Dead' are both decent enough tracks that prevent this album from getting a one-star rating, but overall, considering all the publicity the group had garnered with their debut, this is a disappointing follow-up.
Read more...
Release info
Sub-Genres
Crossover Thrash
Voted For: 0 | Against: 0