Review by MartinDavey87 for Megadeth - Countdown to Extinction (1992)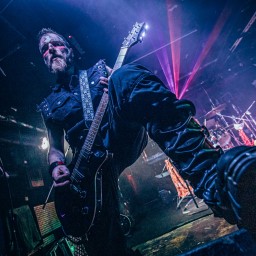 MartinDavey87
/
December 13, 2018
/
0
Hot off the heels of one of thrash metals most revered albums, 1990's 'Rust in Peace', Megadeth slowly started to inch away from the subgenre that they helped to establish, and adapted a more stripped-down radio-friendly approach to their sound. Whether it was a step to ensure their survival amidst shifting musical trends, the next logical progression in the bands own evolution, or a shameless parallel to Dave Mustaine's former bandmates in Metallica, it was a change that ensured that Megadeth would remain one of the prominent names in heavy metal.
Changes aside, this is still instantly recognisable Megadeth, with Dave Mustaine's familiarly distinctive vocals, Marty Friedman's sleek and exotic guitar solos and the solid rhythm work of bassist David Ellefson and drummer Nick Menza. The compositions may have slowed down a notch in favour of more coherent songwriting and more traditional arrangements, but it still sounds like Megadeth through and through.
The only problem is that the songs themselves are not overly memorable.
Sure, there's some absolute Megadeth classics here, such as 'Skin o' My Teeth', 'Symphony of Destruction', 'Sweating Bullets' and 'Foreclosure of a Dream', and there's some underrated hidden gems such as 'Psychotron' and the title track, but there's also some fairly blatant filler material. Songs like 'High Speed Dirt', 'This Was My Life' and a few others do absolutely nothing for me.
'Countdown to Extinction' is regarded as a classic, and in fairness, despite my opinion of it, I won't argue the case. But for me, it's nothing more than a good album. It's got some Megadeth highlights, but its abundance of lacklustre material makes it tough for me to choose this over some of the bands other releases.