Review by MartinDavey87 for Anthrax - Fistful of Metal (1984)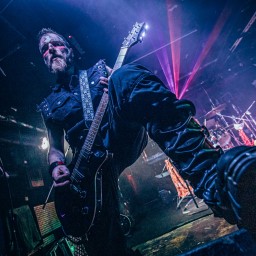 MartinDavey87
/
January 06, 2019
/
0
I like Anthrax. I really do. In fact, I feel somewhat bad for them, as they've always seemed like the ginger stepchild of what's known as the Big Four of thrash metal (including Metallica, Megadeth and Slayer), but like so many early thrash bands, their debut album is fairly unremarkable, with a lack of finesse being evident in their naive and unpolished song writing.
And I know, this is thrash metal, right? What am I expecting? But like all their contemporaries, their later material shows a huge maturity and growth which their earliest releases lack. Such is the case with Anthrax's debut, 'Fistful of Metal'. Although the album starts off well, it quickly loses whatever charm is has as repetition and a lack of any real creativity sinks in.
While guitarists Scott Ian and Dan Spitz have an immediate chemistry, and drummer Charlie Benante proves himself as one of metals most underrated stickmen, it's vocalist Neil Turbin who's performance fails the band. I find his vocals grating, mostly resorting to high pitched wailing that shows a good range, but something about it just annoys the hell out of me.
Still, songs like 'Deathrider', 'Metal Thrashing Mad' and a cover of Alice Cooper's 'I'm Eighteen' salvage this record, and makes it my second favourite of the Big Four's debut albums (Metallica's 'Kill 'Em All' being the best of the bunch). But like so many bands from that era, their best material is yet to come, and earlier releases such as this will soon be left in the shadows.