Review by MartinDavey87 for Machine Head - Burn My Eyes (1994)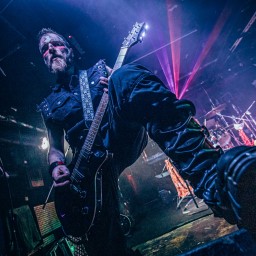 MartinDavey87
/
February 04, 2019
/
0
The early 90's was an odd time for metal. With most of the previous decades heroes being driven underground, going through a phase of substandard releases, or shamelessly trying (and failing) to latch onto the grunge scene that was taking the world by storm, heavy metal needed some fresh new faces to take the reins and steer the genre to pastures new.
With groove metal bands like Pantera standing tall, hardcore heroes like Biohazard bludgeoning their way into the action, and later bands such as Korn and Limp Bizkit taking the music in totally different directions, there was one band that fused elements of all these subgenres together, and so with the immortal lyric of "let freedom ring with a shotgun blast" did Machine Head burst onto the scene.
With some very fat, grooving riffs, plenty of middle-finger attitude and hard-hitting lyrics, Machine Head exemplified metal in the early 90's, when fans were care-free and passionate, ravenous for the next headbanging anthem. And there's plenty of 'em here! 'Old', 'The Rage to Overcome' and 'Davidian' (one on the bands best songs), are all reasons why Machine Head would be one of the bands to usher heavy metal into the post-grunge era of modern music.
The album does plod along at times and comes across as repetitive, which is why it only gets a three-star rating from me. Robert Flynn's vocals suit the music perfectly, although the overuse of harmonics (and in particular, stabs in the music with harmonics filling the gap) does become a tired trick after hearing it in the third or fourth song. But overall this is a solid debut, and 'Davidian' is easily one of the finest metal songs to come out of the 90's, so it's a damn good album just for that.