Review by Saxy S for Total Annihilation - ...on Chains of Doom (2020)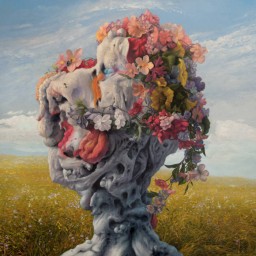 Saxy S
/
March 04, 2020
/
0
Why do I get the feeling that Total Annihilation are Kreator marks? One only needs to look at the cover art for the bands 2020 album ...on Chains of Doom and they will find immediate callbacks to the great Kreator output of the 2010s (Phantom Antichrist and Gods of Violence). And then the album starts and the comparisons continue into the music itself. And I've never been opposed to worship like this, as long as the artist in question does enough to separate themselves from their influences.
Total Annihilation have a much heavier sound in general with huge riffage and pure harsh vocals instead of the hybrid vocals of Mike Petrozza. They are also not as strong songwriters as Kreator. It has its moments for sure; songs like "Dead Souls", "...On Chains of Doom" and the closer "Black Blood" are well constructed with more than enough unique ideas that keep each track interesting, as well as making the pure thrash sections more efficient. Beyond that though, I did not find that much that separated "Reborn in Flesh" from "Iron Coffin" to "Tunnelratten".
The album sounds nice. Production is fairly solid throughout even if the bass/rhythm guitar independence is lacking. Bass drum is not overproduced, guitar solos are sparse, but have a significant impact when they appear, the vocals are pummeling with force and while this is still a thrash album, the riffing is not the main focus of those tracks. The rhythm guitar does sound a little tinny at times, but the bass gives it life.
Overall, I think that ...on Chains of Doom is a respectable thrash metal album in the 2020s. It has some positive moments that make it stand out from its influences, the production is mostly solid, and the intensity is there. But beyond that, too often do I listen to this and think "Wow, this is something that Kreator would have left on the cutting room floor five years ago!" And while I'm sure this is inevitably my negative bias towards modern thrash metal, it still does not excuse the fact that I can't tell this album apart from Phantom Antichrist at least half of the time.