Review by MartinDavey87 for Megadeth - Peace Sells... But Who's Buying? (1986)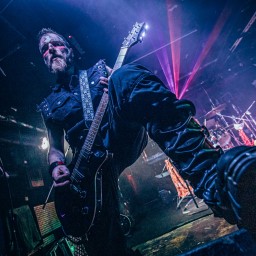 MartinDavey87
/
December 13, 2018
/
0
Surely I'm not the only one who disliked Megadeth's debut 'Killing is My Business', right? I mean, I didn't just dislike it, I hated it. I thought it was awful. It was boring, uninspiring, repetitive, grating, and just all-out rubbish.
That's why I'm happy that with 'Peace Sells... But Who's Buying?', Dave Mustaine and his band of merry musicians become the Megadeth we all truly know and love today. And that includes me!
Everything I hated about 'Killing...' has been rectified here. The songs are catchier and the guitar work has matured a great deal, the vocals have improved massively, in both lyrics and melodies, and the production finally gives the music some clarity, as opposed to their debut album where I felt the shoddy production made it hard to truly distinguish any of the guitar riffs.
Now, let's not get ahead of ourselves. This album is far from perfect, and for all the improvements it's made over its predecessor, there are still some fairly average songs that I don't find myself ever coming back to. However, there are also some early Megadeth classics in there that still hold up well today, such as 'Wake Up Dead' and 'Peace Sells'. And tracks like 'Devil's Island', 'Good Morning/Black Friday' and 'My Last Words' show a band who, despite the vast amounts of drugs and alcohol they were consuming, still had the wherewithal to produce something that would be considered one of thrash metals finest works.
Oh, and it happens to have one of the most recognizable album covers in metal! Not bad. Not bad at all.