Review by MartinDavey87 for Iron Maiden - Iron Maiden (1980)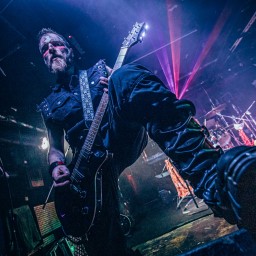 MartinDavey87
/
December 13, 2018
/
0
Timing in everything when it comes to music. Heavy metal, the genre created by bands like Black Sabbath and Led Zeppelin, was already starting to stagnate by the end of the 70's, with a lot of the genres leaders already burning themselves out. Thankfully, in 1980, Iron Maiden unleashed their debut album, taking the flag and running with a new subgenre known as the 'new wave of British heavy metal', or NWOBHM for short, and giving the metal world a kick up its own ass, as it prepared for a whole new level of global domination.
Combining elements of heavy metal with 70's punk, Iron Maiden's self-titled debut is a ball of raw energy, with its gritty production and its unpolished songwriting, this is an album where no punches are pulled. It's rough, it's dirty and there's certainly room for the band to mature, but there's just a charm and importance about the album that makes it stand out. I mean, it's Iron bloody Maiden for Christ's sake!
However, all praise aside, let's get to the nitty gritty of the review. The music is fun, catchy and full of life, but there's nothing truly outstanding jumping out at me. Each track is good, but lacks that extra something that leaves me feeling like I've just listened to a masterpiece.
Musically the band are pretty tight. Guitarists Dave Murray and Dennis Stratton display a chemistry other bands at the time were lacking, and Steve Harris' fast-paced, galloping bass playing instantly sets him apart from other bassists from that era. Vocalist Paul Di'Anno, who would only appear on one other Maiden record before being replaced with the beast that is Bruce Dickinson, may not have the widest vocal range or the most powerful voice, but he makes use of what he has, and it fits the stripped down, almost punk-esque feel of the album.
While the London five-piece would certainly go on to release more ambitious albums (and take over the world, pretty much), 'Iron Maiden' itself can only really be considered a "good" album. 'Prowler', 'Running Free', 'Transylvania' and 'Phantom of the Opera' are all reasons to get this album. But the truth is, realistically, Iron Maiden will go on to release some of the greatest metal albums of all time, and pretty much all the later material makes this album seem a bit dated and obsolete now.
It's good, and it has stood the test of time well, but I'd still only class it as "good". A worthy addition to the collection.