After Forever - Decipher (2001)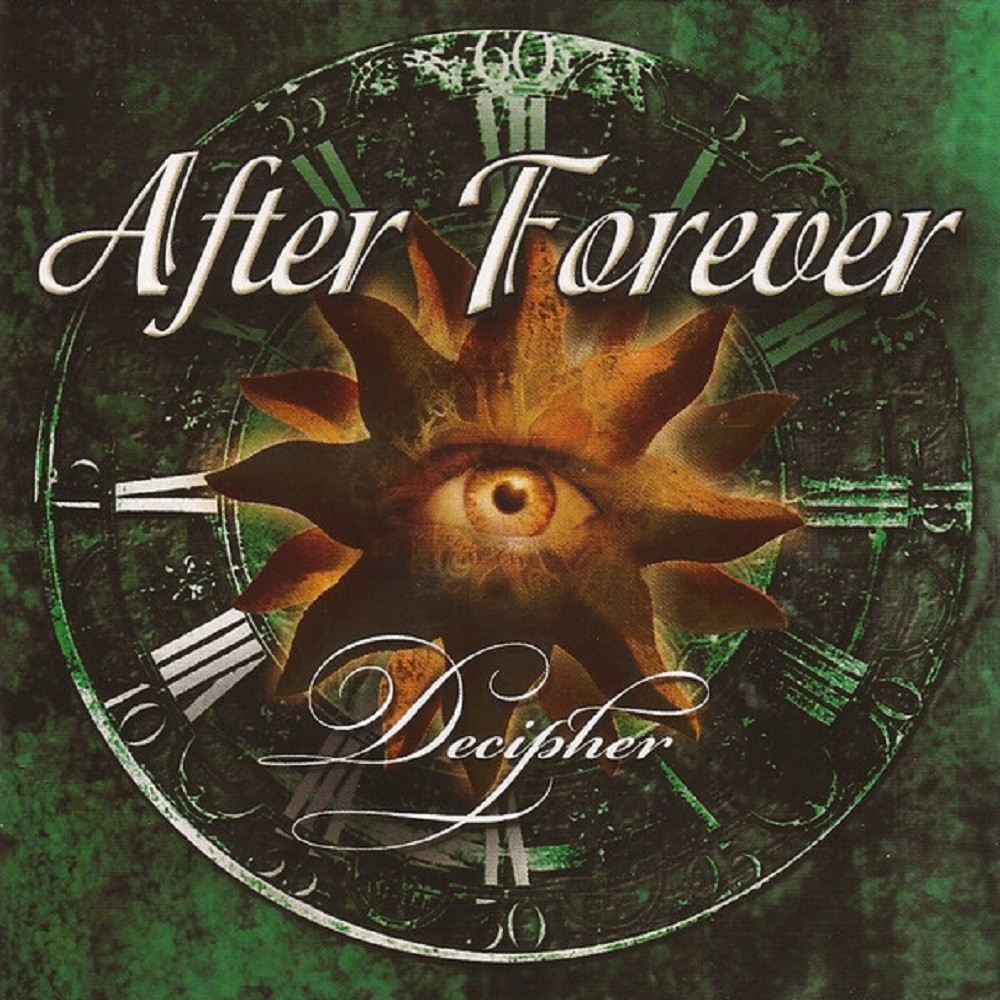 shadowdoom9
/
June 26, 2019
/
Comments 0
/
0
After the less superior stage of Prison of Desire, After Forever unleashed another album over a year later, their second album Decipher! I remember during my earlier epic metal taste, after listening to Prison of Desire because of Epica's The Embrace That Smothers saga starting there, I knew I had to continue listen to After Forever for more of that epic greatness, and it was definitely worth expanding my symphonic metal horizons. I first listened to After Forever 6 years ago, and I'm still impressed by Decipher even after most of my epic metal interest was eliminated. The symphonic layering and high quality still strikes me with its moving endurance even after 3 years of listening to that band and 3 more years of deserting them. After Forever has completed their transformation with this album. Even before forming Epica, this is Mark Jansen's finest hour.
After Forever's dark bleak debut emphasized the "gothic" in gothic power metal, but I wasn't that big of a gothic metal fan yet and even now, the great reliance on female vocals doesn't appeal to me as much as back then. With their second album Decipher, both genres have a more balanced approach; the power metal side has more ballads that still allow the usage of "beauty and the beast" vocals, and the gothic metal side still has the sad doom gloom while mixed with oriental melodies. But what really helps both sides unite is the nicely used symphonic metal grandeur which would later dominate much of Epica's music and might've influenced the Lord of the Rings movie soundtracks. The album makes majestic moves from slow brooding pieces to upbeat moments of aggressive drums and bass, all in never ending balance with perfect soothing bliss. The band also has some of the more progressive influences that were originally present in the demos, but in this album, finally see the light of day.
The film score influences are evident in the intro "Ex Cathedra", which reminds you greatly of the aforesaid Lord of the Rings movies, chilling you to the bone for its length of two minutes. Then it leads to "Monolith of Doubt", finally showing you how much the band has changed since their debut, sounding more intense and refined. It starts with a fast riff over rapid strings, then both the clean and unclean vocals collide with each other. Later the strings really pour out their emotion, perfectly capturing the essence of the composition in its rapid tempo, varying through drums and guitars. The voice of Floor Jansen is really strong and capable of going from mid-range to glass-shattering high, showing how much she has improved. Eastern sitar starts the next song "My Pledge Of Allegiance #1 (The Sealed Fate)", continuing the band's oriental influences. Greatly used riffing worth headbanging is really something to enjoy, and it might have some sparse full-force influence from mid-90s Samael. At the 4-minute mark, the composition calms down for violin and Floor's operatic melodies, in a heartache-filled moment before returning to the main riff. A great long progressive track!
Next song "Emphasis" is another composition that has more straightly direct moments with effective breakdowns and keyboard leads, as Floor continues her majestic singing. Her vocals continue in "Intrinsic" filled with melancholic bliss in an intrinsic composition. Then the beautiful piece segues to "Zenith", a brutal relentless song showing the band's furious derangement over the compositional grandeur. Thundering drums and growling vocals storm over soaring strings. There's a brilliant calm midsection with power metal melodies and soft vocals before exploding back into the heavy zenith. Next song "Estranged (A Timeless Spell)" is the longest and most progressive song of the album. Convoluted twists and constant tempos spin you through destructive power to leave you in awe through its length of 7 minutes. It has loads of diverse variations including strings and choirs in an amazing layer frantically searching for a climatic part that is reached at the 4-minute mark with Floor's high rising notes above epic strings, yet the song still isn't over. The tension keeps building, but near the end, there's one more furious thrash section before it finally returns to the main riff. "Imperfect Tenses" is a great vocal duet between Floor and tenor singer Rein Kolpa (Damian Wilson in its demo version).
The more special "My Pledge of Allegiance #2 (The Tempted Fate)" continues the dark doom influences and oriented influences, but has the more upbeat rage of gothic power metal while still not sounding like a ballad. "The Key" has some moments that I consider keys to the sound Mark Jansen would unlock in Epica. Ending track "Forlorn Hope" has beautiful violin all over, adding melodic beauty to the chaos. Right before the concluding section, there's a recording of a speech by late Israeli PM Yizhak Rabin during a Peace treaty signing ceremony one year before his assassination.
It's very interesting how an album like Decipher can get you listening many times and discover new things each round, ending up reaching the point where you finally have a new perspective after listening for a few years. The band's improvement between their debut and their sophomore is astonishing. Layered music from other music regions are all balanced in different compositions that result in a unique high-quality presentation. The compositional genius that is Mark Jansen in the same band as the most genuine metal soprano Floor Jansen (NOT related) is as perfect as the album itself! My 6-year knowledge and on-off relationship with this album is still near me and I owe it a lot for doing its part in helping me discover different metal worlds and non-metal worlds. Decipher would be endured as a symphonic metal masterpiece, only rivaled by Mark Jansen's later band Epica. The album has empowered me through simple epicness and complex rhythms. Mark Jansen shall be respected forever, AFTER FOREVER!!
Favorites: "Monolith of Doubt", "My Pledge Of Allegiance #1 (The Sealed Fate)", "Emphasis", "Estranged (A Timeless Spell)", "My Pledge of Allegiance #2 (The Tempted Fate)"
Read more...
Release info
Sub-Genres
Symphonic Metal (conventional)
Voted For: 0 | Against: 0
Gothic Metal (conventional)
Voted For: 0 | Against: 0