Dimmu Borgir - Enthrone Darkness Triumphant (1997)Release ID: 5511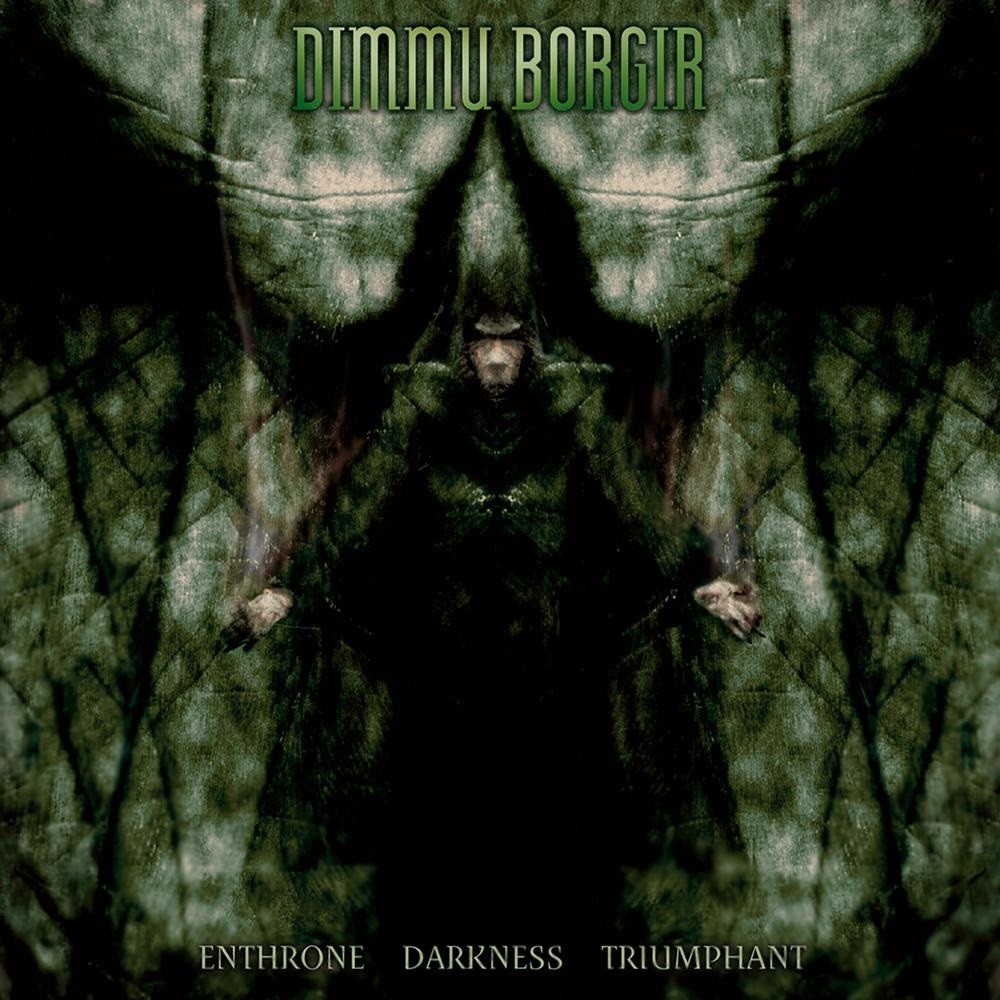 Vinny
/
February 28, 2020
/
Comments 0
/
0
Chalk me up for entry into the folder marked "Don't get the fuss around Dimmu Borgir" and file me neatly away in the back of the filing cabinet. Perhaps this is too harsh a statement to open my review with as Enthrone Darkness Triumphant isn't terrible. You can't deny the high drama levels that are akin to soap opera proportions of theatre, nor can you ignore the effort the band puts into their art form. Musically, their 1997 release is hi-octane and bursting with passionate energy for the medium they espouse.
My problem is that upon reflection it is more or less all the same for the whole album. Grim vocals, spreading a sense of despair and menace at the same time, are perhaps the highlight of the album for me, most certainly the standout part. The rest of the experience just feels like a very excitable gallop into symphonic territory that whilst in essence works there's never an opportunity to absorb or digest much of anything by dropping pace a little.
I have no issue with relentless delivery of an album in the main but I still need something to latch onto to keep me interested and hooked. Unfortunately here, despite not falling into the "throw every idea we have at the songwriting" trap, the album feels like it suffers from this regardless. Working my way through all ten tracks there is definitely some structure to more or less all of the tracks but it feels somehow too hidden.
The memorability factor therefore is significantly diminished to the point of me almost getting bored, which is ridiculous given my acknowledgement of the energy levels present. I just feel things need to be paired back a little to let the individual parts of the music breathe more freely and allow their impact to be more obvious and better appreciated.
Read more...
Shezma
/
January 08, 2020
/
Comments 0
/
0
Haunting Hopelessness
Well this was a ride I don't know why I never got to. Dimmu Borgir was my first black metal act. As I have mentioned elsewhere Puritanical Euphoric Misanthropia was my first black metal album. After listening to CoF, I had an urge to listen to PEM again and it still held up in my opinion then noticed Enthrone Darkness Triumphant was next on my list and was looking forward to it. Wow, what a change in direction in 4 years that these albums had. PEM took away the more symphonic elements and went more straight black metal leaving out a bit of the melody this one had.
I've listened to everything that Dimmu Borgir has put out since Puritanical and was always a fan. Now, it's been a few years so I will definitely be going back to them but I need to listen to their early stuff first because I am very impressed. The melodies and atmosphere they put in this is amazing. This is cathedral black metal during a blizzard at night. The instrumentation fits so well, the keyboard and even organ work (even if just using a keyboard's organ tone) does so well I don't understand why more acts don't do this. Beautiful. I don't believe they're trying to scare anyone with this like other acts do, but I'm not sure what they're going for because it's still cold.
A sensation of helplessness, as if your body is already frozen but fear has left you and you're at the acceptance stage to let death wash over you to take you away. That's my description. You want to die at peace but you are being tormented by the cold. The sweeping keys are almost uplifting at points while the guitars and drum work pummel you into a coma unrelenting to let you drift away. Dimmu Borgir has done an amazing job here and looking forward to anything else they put out and going back through their discography and finding so much more to love.
Read more...
Release info
Release
Enthrone Darkness Triumphant
Sub-Genres
Symphonic Black Metal
Voted For: 0 | Against: 0