Reviews list for Accept - Restless and Wild (1982)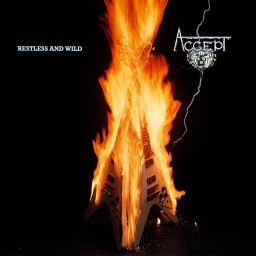 The veterans of Accept have had a winning streak lately (at time of writing), with a wonderfully received comeback in 2010's Blood of the Nations, and a seemingly unstoppable string of solid albums since then. Of course, the reason Nations and others made such a splash is precisely because of the band's legacy, and it's Restless and Wild, along with Balls to the Wall, that really made that legacy.
Certainly, this album shows a band having a blast, loud and clear, and good at what they do. Accept's sound here is often comparable to AC/DC in their cut-loose style of heavy rocking, but with a dollop more aggression here. "Fast as a Shark" even strays into solid proto-thrash territory, though most of the rest of the album doesn't quite go for that same level of vitriol. Still, it's ballsy, wild stuff from start to finish.
And really, how well that works for you is just a matter of taste and what you might be looking for at any given time. As you peruse the menu of late 70s/early 80s metal, are you after something fantastical (Ranbow), darker (Black Sabbath), maybe something with more of a punk edge (Motörhead)? If you fancy something a bit more straightforward and hard rocking, while still managing to take things a few notches heavier than German contemporaries Scorpions, this should do the ticket. Personally, I like my early metal a bit heavier, and while Restless and Wild does have some good numbers, it feels a bit too standard for its age, for me.
Choice cuts: Fast as a Shark, Princess of the Dawn
Read more...
Tymell
/
June 04, 2021 11:52 PM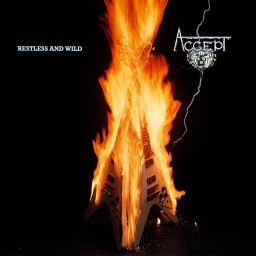 The reality is that Accept where virtually untouchable at the time of this release. Coming one year after the general good reception to Breaker, their fourth album had a great foundation to build from and Restless and Wild summed up perfectly the flavour of this record. It is a fine display of brooding and rampant metal/hard-rock from a band brimming with confidence. This is reflected in the quality of the songwriting and the arrangement of the album as a whole. It's all on here from memorable anthems to slow-burning numbers that writhe and slither like hungry serpents.
Within fourteen months of this release the band would push on again in their quest for metal royalty status with the equally barnstorming Balls to the Wall showing that they were truly hitting their stride. The level of intensity that was now delivered on Restless & Wild had a maturity and control that made it more potent and compelling. The vigorous and authoritative poise of the playing showed this was a band firmly in the driving seat of their own destiny and they had their foot to the floor.
The title track alone with its rampant gallop stamps enough authority on proceedings to let the listener know Udo and the boys weren't here to fuck around. The real hook of the album though is how they maintain that intensity but manage to vary the pace of tracks, switching from chanting choruses and blistering leads to more moody atmospheres effortlessly. Always there is a feel of there being something on the boil here, simmering with a passionate and unwavering flame beneath.
Udo as ever is superb and it is he who steals the limelight on this record intermittently as he jousts for supremacy with the excellent leads of Hoffmann. The band as whole though are a tight and unified front, charging mercilessly forwards and delivering my favourite record of the Udo era.
Read more...

Vinny
/
March 27, 2020 12:47 PM