Elvenking - Reader of the Runes – Divination (2019)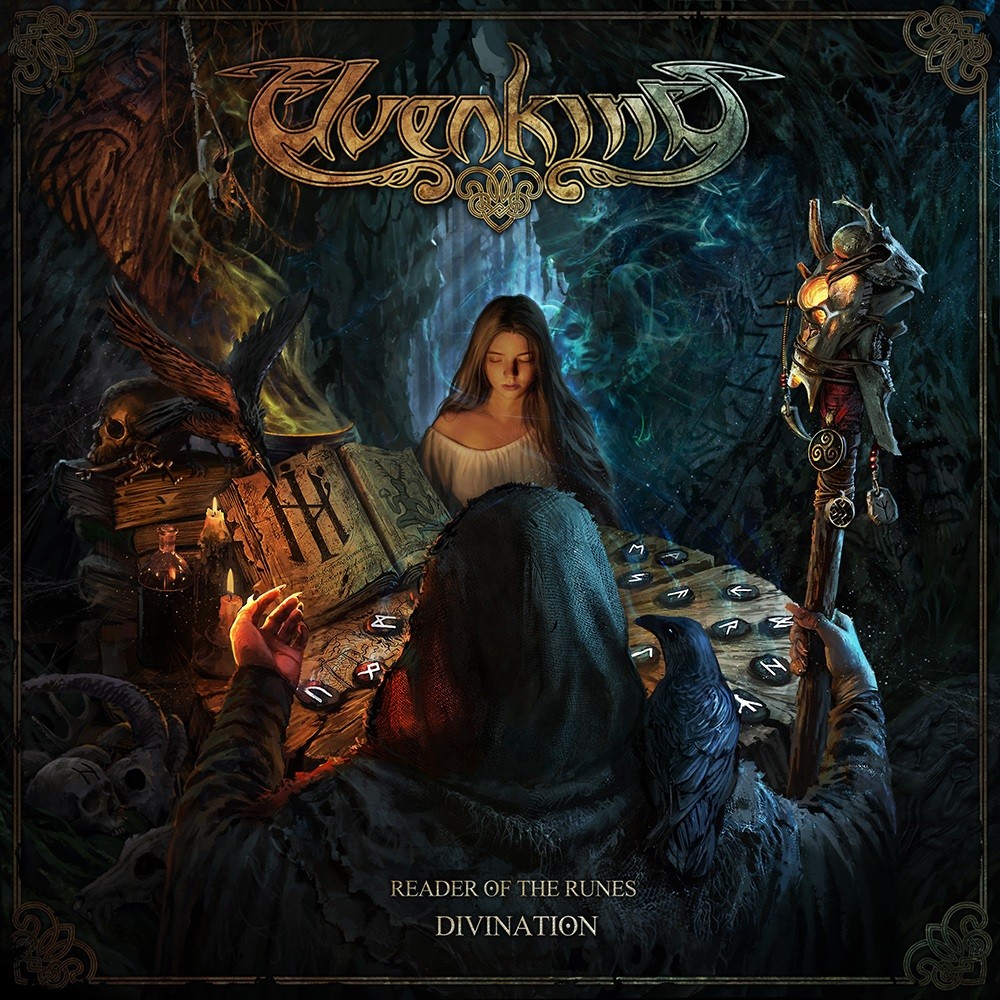 Xephyr
/
December 26, 2019
/
Comments 0
/
1
A Runic Triumph
With the "fantasy Dungeons & Dragons" style of Power Metal having always been a dime a dozen, it takes quite a bit of pizzazz to stand out among the countless other bands attempting a similar style. Italy's Elvenking is no stranger to the challenge, as this is their tenth studio album since forming in 2001, using folk music as their defining factor. Reader of the Runes - Divination, hopefully the first of future albums using the same concept, follows 8 different characters as their fates are manipulated by the Reader of the Runes as the listener is taken across a magical and fantastical world. While bands like Rhapsody and Twilight Force use mainly neo-classical influences to achieve this atmosphere, Elevenking veers off down the Folk Metal path, merging insanely catchy melodies with all kinds of different metal riffing, ranging from Speed Metal chug to Black Metal tremolo.
The use of so much Folk Metal with relatively normal Power Metal ideas is where Reader of the Runes - Divination shines, creating so many catchy melodies without feeling overpowering or bloated. All of the Power Metal riffs are driving and huge, but don't overwhelm the folk or vocal melodies in the mix. It's a treat to hear something this folky and symphonic, especially in the first half of the album, performed so well because many other bands have tried and definitely have failed. "Heathen Divine", "Silverseal", and "Eternal Eleanor" are relentlessly catchy, with acoustic and violin melodies being played alongside addictive Power Metal riffs with well written choruses. The album changes into more of a straight up Power Metal album in the second half, forgoing folk melodies for some Black Metal and classic Power Metal influences for "Malefica Doctrine", "Sic Smper Tyrannis", and "Warden of the Bane". The 10 minute epic "Reader of the Runes - Book I" acts as a worthy climax of the album, drawing influence from the prior tracks, reviving riffs and melodies used earlier in the album but putting a new twist on them. The obvious fantasy Power Metal cheese is still there, of course, but it's softened by a vocalist who stays in his comfortable range and by having a ton of variety as the album plays out.
Reader of the Runes - Divination is just too catchy and likable, pulling out all the stops for an epic Power Metal performance without going too off the deep end. It's an addictive and cohesive album, with the final track pulling the entire project together at its conclusion, making it feel like an actual story rather than just a collection of tracks. I think Elvenking have found their niche with this release, since this album is much cleaner and creative than Secrets of the Magick Grimoire, which suffered from the common Symphonic Metal problem of having too much going on and ending up with a muddy final product. Reader of the Runes - Divination is a sleek Folk/Power Metal experience with less fluff but more memorable and epic moments, and that's exactly what I look for in these albums. I really hope they continue with this concept, because I personally can't wait.
Read more...

shadowdoom9 (Andi)
/
September 17, 2019
/
Comments 0
/
0
While the earlier folk metal bands were obsessed with Viking/Celtic history, hence the invention of subgenres Viking metal and Celtic metal, Elvenking stood out as jolly good band of festive fantasy. However, during the mid-2000s drastic change in power metal, frontman Damnagoras, having returned after being absent for one album, wanted to drive this power/folk metal band off a cliff and revive them as a band with emo-rock nonsense. After an acoustic album, the band prepared to return to their former glory, with Damnagoras tagging along to make up for his mistakes. After a couple average recordings, the glory of their first two albums returned in Pagan Manifesto!
As the 2010s rolled on, this Italian band continues their returning streak of folksy power metal in 2017's Secrets of the Magick Grimoire, and now we're at another massive offering that is Reader of the Runes - Divination, the first part of a possible series. This album continues what they had in their previous album, which makes sense due to no changes in lineup, though the band's storytelling approach is the most prominent since Heathenreel, with the atmosphere having overarching precedence in songs. The best thing to note about the contrast between Reader of the Runes and their previous two offerings is, here there are more methodical techniques that allow more gradual flow between songs while still having an occasional extravaganza.
The cinematic atmospheric intro "Perthro" is a small prelude to get you prepared for this grand festival of the straight driving anthems that are to come. The Rhapsody of Fire/Equilibrium-inspired mix goes on in "Heathen Divine", as divine of a first song as Kamelot's "Phantom Divine" (from The Shadow Theory)! Another anthem "Divination" has more punch. Same with "Silverseal", released as a pre-release single, showcasing the rock-ish motive the band had since The Winter Wake. There's brilliant violin performed by Lethien, while allowing the two guitarists to shine with impressive shredding and happy riffing.
"The Misfortune of Virtue" continues the kinetic epicness. The laid back "Eternal Eleanor" is a nice break from the boundary-stretching songs mentioned in the paragraph above. The transitional interlude "Diamonds in the Night" is Elvenking's own small "Bard's Song"! Then comes "Under the Sign of a Black Star", another single with its own lyric video, adding thrashy riffing to this straight hooky approach.
"Malefica Doctrine" continues the kinetic epicness of power metal once again as Damna's tenor voice drifts over massive extreme-influenced orchestral metal. "Sic Semper Tyrannis" continues the usage of violin/bass breaks. This continues in the more technical "Warden of the Bane" with some of the fanciest guitar work by the band. The most triumphant part of the album is the massive 10-minute closing epic, "Reader of the Runes - Book I", their most ambitious song since the ending of the Wyrd album. This is a fantastic great monolithic end to the band's folk-power metal return album trilogy started in Pagan Manifesto, but it might hint at a different saga beginning with a possible "Reader of the Runes - Book II". This is a grand flashback to my earlier folk/power metal taste, along with new elements suited for my current heavier era including a killer black-ish soloing section in the middle. I'm grateful for this powerful masterpiece of f***ing impressive epic metal sorcery, greater than the epics made by Helloween. Love it!
Trends are temporary, and Elvenking had already once suffered a drastic change in identity, but with a solid offering like this one, this proves how unique Elvenking can be without a lot to fixed. They're definitely not at all like AC/DC whose albums would remain the same decade after decade. You can play just one or two metal genres while exploring many possibilities of stylistic growth. There's no possibly difference between Elvenking now and Elvenking 20 years ago for you to compare, yet these older classics that might sound stripped down end up getting recreated into something new and larger. If you're fan of melodic folk/power metal with happy-sounding riffs, you'll definitely all that you really want achieved, and hope for a great or greater Reader of the Runes - Book II!
Favorites: "Heathen Divine", "Divination", "Silverseal", "The Misfortune of Virtue", "Malefica Doctrine", "Warden of the Bane", "Reader of the Runes - Book I"
Read more...
Release info
Release
Reader of the Runes – Divination
Sub-Genres
Power Metal (conventional)
Voted For: 1 | Against: 0
Folk Metal (conventional)
Voted For: 0 | Against: 0