Review by Ben for Slayer - Reign in Blood (1986)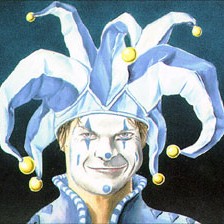 Ben
/
January 16, 2019
/
2
A controversial yet undeniable classic that set the bar for metal intensity.
Reviewing Slayer's Reign in Blood album is probably a bit pointless. After all, the album has received so much recognition and praise over the years that me adding my own five cents isn't going to make much difference. We're talking about an album that received plaudits such as: Kerrang! Magazine described it as "the heaviest album of all time". Metal Hammer Magazine named it "the best metal album of the last 20 years". Stylus Magazine added "the greatest album of all time". Over two decades later and the recognition just keeps on coming. It came in at number 1 in Terrorizer Magazine's reader's poll for "most important album of the eighties". It's even included in the 1001 Albums You Must Hear Before You Die, a very big deal considering how shunned metal usually gets in such lists. When guitarist Kerry King was asked why Reign in Blood is so special to so many people, his answer was "If you released Reign in Blood today, no one would give a shit. It was timing; it was a change in sound. In thrash metal at that time, no one had ever heard good production on a record like that. It was just a bunch of things that came together at once." After witnessing Slayer perform the entire album live at the end of their set list in Sydney a few months back, I can safely say that Mr King is wrong. This wasn't just right time, right place. Reign in Blood is as fucking awesome today as it was in 1986!
Let's take a trip back to that very year and see how this classic album came about. Slayer's previous album Hell Awaits had been a huge success and the band's producer and manager Brian Slagel knew that there was every possibility that their next release could hit the big time. Rather than continue with the low budgets and not particularly advanced recording equipment that his own label Metal Blade Records could offer the band, Slagel aimed high and began discussions with several larger scale labels. One of these labels was New York based Def Jam Recordings, but when founder Rick Rubin expressed interest in Slayer, Slagel was reluctant due to Def Jam being primarily a hip hop label. When drummer Lombardo was informed of the interest from Def Jam, he tried to make contact with Rubin on his own accord, eventually tracking him down through Def Jam's distributor Columbia Records. He convinced Rubin to attend a Slayer concert where he clearly made the decision that he needed this band on his label. He would eventually track the band and Slagel down at a European music convention, where he persuaded them to sign with Def Jam Recordings. This decision was key to the success of Reign in Blood as having a major label recording budget combined with the fresh perspective of a producer with no previous experience with metal resulted in an album vastly different to any that had come before it.
Once Reign in Blood was finally released on October 7, 1986, it was immediately met with enormous critical praise, but Slayer would face controversy both prior to and following that release date. Columbia Records refused to distribute the album due to its graphic artwork and lyrical content, with Rubin eventually distributing the album through Geffen Records. Even Geffen were fearful of backlash and purposely left Reign in Blood off their release schedule for fear of negative media attention. (For more info on this controversy and its impact on the public and band, see the sidenote at the end of this review.) Slayer's target audience, being fairly used to litigious content in their albums, were unfazed, and were blown away by the clarity, precision and power of the new material. King later remarked "It was like, 'Wow—you can hear everything, and those guys aren't just playing fast; those notes are on time'" which is arrogantly put but bang on the money. The production was so good that it became apparent that the chaotic and frenzied nature of Slayer's music was in fact incalculably talent-filled, controlled aggression. Every element of the band is performed at high speed with a natural technicality that never feels forced, just brutally organic. But this increase in production is by no means the only shift in the Slayer sound.
The band had become bored with the predictable structures and repetition of riffs that filled their previous albums, as well as those by thrash metal legends Metallica and Megadeth. They decided to cut the excess off, leaving only the most intense material and not giving the listener any chance to relax. This method resulted in a ten-track record with a running time of less than 29 minutes, but Slayer fit more into this short period of time than most hour-long epics could dream of. Each track joins onto the next one seamlessly making Reign in Blood play like one solid half hour of awe-inspiring thrash metal ferocity. Opener Angel of Death runs into Piece by Piece which in turn becomes Necrophobic and before you know it you're half way through an album of exceptionally recognisable classics seemingly without blinking or taking a breath. Hanneman and King lay waste with a continuous flow of awesome riffs and mind-blowing leads, Lombardo puts in a performance for the ages with flawlessly efficient yet crushingly potent drumming, while Araya hollers atrocities at a hundred miles an hour while remaining completely in command of proceedings. Each member of the band is in their prime and by the time the drool worthy title track breaks off into an apparent rain of the red stuff, you'll be grinning ear to ear and desperately reaching for the play button again...and again...and again...
Sidenote: As mentioned earlier, Reign in Blood's release was delayed due to concern over its lyrical themes and graphic artwork. The album cover was designed by Larry Carroll, who was known for his political illustrations for media such as The New York Times. It's depiction of Hell, complete with a goat-headed Satan performing a Hitler salute and being carried on a throne surrounded by fire, severed heads and the impaled, was highly controversial and overtly satanic. To make matters worse, the subject matter, particularly the lyrics of opener Angel of Death, also provoked allegations of Nazism. The track describes the horrific acts of Nazi physician Josef Mengele, who was dubbed the Angel of Death due to his surgical experiments on patients at the Auschwitz concentration camp during World War II. These acts included experimental surgeries performed without anaesthesia, transfusion of blood between twins, the sewing of bodies, isolation endurance, gassing, injections with lethal germs, sex change operations, the removal of organs and limbs, and abacination (where the victim is blinded by having a red hot metal plate held before their eyes), most of which are described in Slayer's lyrics. The song caused outrage amongst Holocaust survivors and the public in general, with the band being labelled Nazi sympathisers and racists.
These labels would follow the band throughout their career and they've continually had to defend their use of the material. They've stated numerous times since the release of Reign in Blood that they do not condone Nazism and are merely interested in the subject. Hanneman was inspired to write the lyrics for Angel of Death after reading several books describing Mengele and his various forms of torture. He says the reason there is no mention in the lyrics that what Mengele was doing was evil is because he didn't think it necessary. Surely that was obvious to everyone right?! As flimsy as this defence is, it certainly would have stood up better if the band hadn't attempted to capitalise on the controversy by adding an eagle to their logo that distinctly resembles the Reichsadler (during Nazi rule, a stylised eagle combined with the Nazi swastika was made the national emblem by order of Adolf Hitler in 1935) for their early nineties releases. Check out the cover of Decade of Aggression if you're not sure what I'm talking about. Hanneman also placed SS stickers on his guitars and wrote the song SS-3 for Divine Intervention which speaks of Reinhard Heydrich, the second in command in the Schutzstaffel, so if Slayer wanted to clear their name and rid themselves of this negativity, they certainly went about it the wrong way. I guess there's no such thing as bad publicity.