Review by Ben for Opeth - Orchid (1995)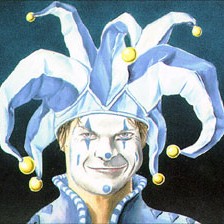 Ben
/
December 14, 2018
/
1
Opeth's debut is a wonderful tapestry of differing moods and textures. Essential!
Love them or hate them, Opeth are one of the most successful bands in the history of metal music. Releasing a consistent flow of outstanding albums, the band have built up a huge drooling fan base, garnered immense critical praise, and done so while completely avoiding straightforward genre classifications. Whether Opeth should be at all associated with death metal these days is a constant argument that fills pages of forums and Rate Your Music genre queue discussions, but there can be absolutely no doubt that the band's origins can directly be linked back to death metal. The seeds of Opeth were sewn when long time friends Mikael Åkerfeldt and Anders Nordin formed a band called Eruption in 1987. Initially the two of them played death and thrash metal covers by bands such as Death and Bathory, before putting together a full line-up and writing their own material. Eruption disbanded in 1990 without ever performing live or releasing anything to the public, but the experience would unquestionably help Mikael and Anders have more success in future endeavours. After the split, David Isberg asked Mikael to join his band, a death metal band called Opeth. Mikael had previously seen the Opeth logo (the original one complete with inverted cross that can be found here) and liked it, so he accepted the offer.
The band name was chosen by Isberg and was derived from the word Opet, which originated in a Wilbur Smith novel called The Sunbird. In the book, Opet is the name given to a fictional Phoenician city which is also known as the City of the Moon. Who knows what inspired him to use the name for his death metal band, nor why he added an "h" onto the end, but that's what he did. Unfortunately for Mikael, his first day with Opeth did not go particularly smoothly. When he arrived for practice, it became clear that none of the other members of the band knew that Isberg had invited him to join, including the current bassist who also turned up. Unsurprisingly, this caused a huge argument which resulted in mass revolt, with only Isberg and Mikael remaining by the end of the day. Not only did they decide to continue on alone, they committed to making Opeth the most evil band in the world. Anyone that's experienced Opeth's music will know that this goal was never reached, but it's safe to say that the aim was soon adjusted to a far less sinister, yet no less ambitious target. Jump forward three years and Opeth has dramatically transformed. Numerous line-up changes had occurred and even Isberg left the band in 1992 to join Liers in Wait, leaving Mikael as the main driving force. The blast beats and satanic imagery were gone and acoustic sections and harmonies had become the norm.
In March 1994, Opeth were ready to record their debut album. They hadn't released even a demo at this stage as the Apostle in Triumph recording that is often passed as such is simply a leaked promo the band had sent to labels in an attempt to get a record deal. It was successful too, as the three and a half minute promo was enough to convince Candlelight Records to sign Opeth onto their roster. By this stage, Mikael had taken over as vocalist on top of his normal guitar duties, his old Eruption mate Nordin had joined on drums and piano, and Peter Lindgren (who originally joined as a bassist) was involved as the second guitarist. They still didn't contain an official bassist, so they hired Johan De Farfalla, who'd previously joined and departed the band, as a session musician to get the album over the line. Orchid was recorded in a town called Finspång, with scene legend Dan Swanö taking on a producing role. The studio was situated in the basement of a small house in the middle of a field, and Swanö had convinced the band that it had once been used to aid the mentally ill. Despite the strange atmosphere that this knowledge produced, the recording of Orchid went relatively smoothly, with the only issue being that they ran out of time to record the acoustic instrumental Requiem the way they would have liked. The track was eventually re-recorded in a studio at Stockholm prior to complete the album.
Unfortunately, while the recording was accomplished with little stress, the same cannot be said for the mastering, packaging and distribution. Whoever handled the mastering did so without the band present and made a bit of a mess. The end result is that the final few minutes of Requiem were attached to the beginning of The Apostle in Triumph, which is not only a bit confusing for the listener, but it's also pissed off Mikael to this very day. To make matters worse, after designing a thoroughly unique cover (at least for a metal band), that included having an Orchid sent from Holland for the cause and some very effective silhouetted band photos, the colour scheme of the CD (it's bright blue instead of black) and the lyrics (the colours were reversed making it ugly and fairly hard to read) were completely botched. Finally, after all these mishaps threatened to damage a product that Opeth were otherwise thrilled with, the newly formed Candlelight Records had major distribution problems, so Orchid was not released officially until May the 15th 1995, over a year after it was recorded. Yet despite all of this, when Orchid finally made its way into the hands of metal fans and critics, the response was unanimously positive. All Music labelled Orchid "a far-beyond-epic progressive death monstrosity exuding equal parts beauty and brutality". It's hard to disagree!
Personally, Opeth took me completely by surprise when I first heard them back in 1995. I'd been hunting for black metal bands and pretty much anything violent and dark at the time, so I purchased a Candlelight compilation that had the inspired title Candlelight Compilation, hoping to add to my growing collection of blasphemy. The second track (The Apostles in Triumph) was by a band called Opeth whom I'd never heard of. They didn't fit the description of what I'd been searching for at all, yet a couple of spins later and I would be thoroughly convinced that these Swedes were something extraordinary indeed. The first word that comes to mind on listening to their music is class. Whereas so many bands around are trying to be as fast, or as despondent, or as evil as they can possibly be, Opeth just try to write damn good music. As far as I'm concerned they've never failed to do that in the twenty years of their existence. Of course it helps that each member of the band is extremely talented, but talent doesn't always equal quality music, which is abundantly present in everything they touch, including this harshly underrated debut album. Considering Mikael is the only constant in Opeth and the man behind the musical direction and lyrics, there's no doubt that the majority of the praise attributed to the band should really be directed at the man himself.
Orchid contains sixty five minutes of music and while there are seven tracks in total, two of them are quite beautiful short instrumentals, with the rest being made up of five epic progressive death metal tracks, ranging from ten to fourteen minutes. Generally if an album contains tracks of such extended lengths, you can assume the music contains a certain degree of repetition, but that's not the case here at all. Each composition includes a wealth of variety, generally not holding to constant themes and instead, branching out in many directions of differing moods and textures. This is one of the things that differentiate the first two Opeth albums to the remainder of their work and something that makes these releases perhaps a little bit less accessible. While albums like Blackwater Park and Deliverance contain songs that are easily recognisable due to more focused and typical song structures running through the underbelly of experimentation and musical adventure, both Orchid and Morningrise tend to move from one gripping section to another, never really inhabiting the one place for long before moving on to new pastures without looking back. One minute it's beautiful acoustic, next it's crushing death metal, then doom-filled harmonies and so on. I see this as both a positive (each section is both fresh and captivating) and a negative (it's difficult to hear part of a song and actually know which one it belongs to due to this lack of focus).
The more you devote to Orchid, the more it will give back, and it seems odd to me that fans rate the album so low compared to every other Opeth release. Mikael's vocals are a little higher pitched (almost black metal-like) and the drumming in particular lacks the more technical elements that would come on later releases, but there's nothing that really stands out as being anything but high quality. There was certainly nothing out there that sounded anything like this at the time and the whole package that Opeth offered was both unique and courageous. Not many metal bands would run with the idea of calling their debut album Orchid and displaying a pink flower on the cover. But that's a sign of the intellectual qualities of the band. They don't get caught up in all the seemingly necessary nasty image portrayals that so many other bands use to catch your attention. The cover is perfect in that it presents a depiction of the beauty held within its content and it's memorable in its uniqueness. I'm not going to claim that this is Opeth's best release, but it not only holds an important place in the development of an amazing band, it broadened the listening sensibilities of thousands of metal fans including yours truly. Orchid is the first of many Opeth masterpieces and an album I can go back to over and over again and still be filled with admiration and wonder.