Review by Ben for Worship - Last Tape Before Doomsday (1999)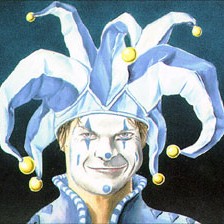 Ben
/
May 16, 2019
/
2
Deserving of its cult status! Full of intensely dismal yet utterly beautiful funeral doom metal.
I try hard not to be affected by the underground cult status of albums when reviewing them. So many times, I have come across releases that are considered cult classics, only to find that their status has more to do with the controversial or unique circumstances surrounding their creation, rather than the quality of the music itself. Worship's Last Tape Before Doomsday seemed a perfect candidate for this, containing all the attributes that generally lead to cult status, to the point where I couldn't help but be sceptical prior to listening. Before I disclose my own personal judgement of the album, it's worth exploring the origins of Worship for anyone out there not yet familiar, and the reasons why Last Tape Before Doomsday is such a curiosity for so many. The band was formed in Germany early in 1999 by vocalist and drummer Max Varnier (aka Fucked-Up Mad Max) and guitarist Daniel Pharos (aka The Doommonger). At the time, Max was the editor for French zine Ocean Morphique as well as a member of black metal band Kult and death metal band Beer Vomit, while Daniel was the guitarist for little known doom band Somber Serenity. Within only a few months, the duo recorded a four-track demo called Last Tape Before Doomsday, which as the name suggests, was released in very limited cassette form by Max's own Impaler of Trendies Productions label.
That's right, this highly loved album, which currently sits at number three on the all-time funeral doom metal charts on Rate Your Music, was in fact never intended for official release at all. However, the positive response to the cassette led to it being re-released in 2000 by Japanese label Weird Truth, yet once again it was cassette only and limited to 300 hand-numbered copies. You'd have to think that by this stage Worship were known only to the smallest minority in the metal scene, which suggests that what occurred on July the 23rd 2001 had nowhere near the impact that it would have given Worship's status today. During a trip to Canada, Max Varnier committed suicide by jumping off a bridge. It's always difficult to tell in hindsight if an occurrence like this increased the interest in a band or whether the popularity growth would have transpired regardless, but Last Tape Before Doomsday's rise unquestionably picked up from this point. Belgium label Painiac re-released the demo on vinyl in 2002, changing the name appropriately to Last Vinyl Before Doomsday, which was limited to 400 copies, before Weird Truth released Last CD Before Doomsday in 2004, this time limited to 500 copies. Worship's rise to recognition was finally complete when Last CD Before Doomsday, which contains a bonus track titled Keep on Selling Cocaine to Angels, was given an unlimited release in 2006.
So, we've got a previously little-known extreme doom demo, with a gradually increased release through more and more accessible forms of media, by a band whose front man took his life a couple of years after recording. If that doesn't demand cult status, then I don't know what does! Thankfully, this treasure does in fact live up to all the "worship" and is yet another case where I owe the people of Rate Your Music a case of beer. Worship really had a point to prove with this release, seemingly choosing to create the antithesis of where so-called doom metal was heading at the time. Bands such as My Dying Bride, Anathema, Paradise Lost and Katatonia had all moved on to more progressive, more gothic or more alternative pastures in recent times. Mad Max and The Doommonger seemed determined to bring back the doom and Last Tape Before Doomsday is one of the most gut-wrenchingly crushing and beautifully emotive albums I've had the pleasure of submitting myself to. For a demo the production is not too shabby at all, with a chunky guitar sound, powerful vocals and a perfectly adequate drum sound. Even when things get quiet, the minimalistic acoustic and piano sections have an incredibly dense atmosphere without sacrificing clarity in the slightest. Its only inaccessibility comes from the fact that Worship play extremely depressive and sinister sounding funeral doom.
Opening track Whispering Gloom is without doubt the highlight of Last Tape Before Doomsday. Its gorgeously dark melodies, moody slower sections and Max's passion filled, guttural emissions, make for an emotionally draining yet entrancing experience. Most lyrics on the album are in German but it makes absolutely no difference whatsoever, which is testament to both to Max's performance and the sheer extremity of his style. Probably the closest comparison I can make to this sound when thinking of more modern bands is Johan Ericson's Doom:VS, which has a similar vibe and use of varied techniques without sacrificing the doom for even a moment. Second track Solicide and the Dawning of the Moonkult is just as epic, if perhaps a little less memorable, as is the comparatively swift percussion driven Eclipse of Sorrow that recalls the more violent side of the apocalyptic Winter. Final track Worship is the deal-clincher for me. A monolithic beast with about one drum beat per minute (slight exaggeration in case you're wondering) and a truly magnificent guitar melody (if you can call it that given how gloomy it is). By the time these fifteen minutes of blissful despondency, including the eerily hypnotic ambient central interval, have run their course, there's absolutely no doubt in my mind that Last Tape Before Doomsday is worthy of its lofty position in funeral doom metal history, and I only regret that doomsday took so long to descend upon my world in the first place. Essential for all lovers of funeral doom!