Review by MartinDavey87 for Iron Maiden - Killers (1981)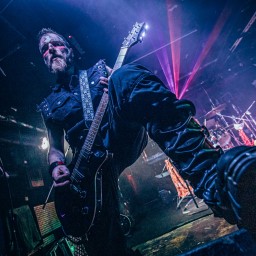 MartinDavey87
/
December 13, 2018
/
0
One year after the release of their self-titled debut, Iron Maiden are back again with 'Killers', an album that pretty much replicates everything from the bands previous release, only the overall product just doesn't quite seem as good.
'Murders in the Rue Morgue', 'Genghis Khan' and the standout track 'Wrathchild' are all notable songs from this record, but to be honest, they're not really anything special. Any of them could easily be replaced with something from Iron Maiden's debut. It's not a bad album, but most of the songs will certainly be forgotten about with subsequent releases.
In the big scheme of things, this album "doesn't really matter" to me. It's just a stepping stone. Vocalist Paul Di'Anno's rather limited range has pretty much run its course, which Maiden will have rectified by their next album, and the addition of Adrian Smith on guitars (replacing Dennis Stratton) is really just setting up the band for the next big step of their career, and securing the line-up that would become the most endeared to fans.
My final verdict; 'Killers' doesn't have the prestige of being Maiden's debut, and it's not the record that really smashed out the hits and made them a global force (like their next release would). It's just that "in between" kind of album. Better things are coming.