Review by MartinDavey87 for Black Mages, The - The Black Mages (2003)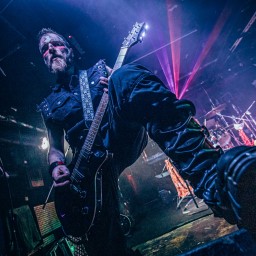 MartinDavey87
/
April 18, 2020
/
0
I've never played any Final Fantasy games. Yet, this hasn't hindered my enjoyment of listening to the Black Mages one bit.
I've always had an appreciation for video game music, even though my gaming days may have died out around the same time the PS2 did, the moods and atmosphere in the music, as well as the nostalgia they incite, always struck a chord with me.
I had a keyboard player friend who was a fan of the Final Fantasy series (of which I've never played), and he turned me on to the music of Nobuo Uematsu, the games composer. In particular, he played me the song 'Clash on the Big Bridge'. I loved it! It was catchy, energetic and fun to listen to, taking me right back to my childhood days playing my Sega Master System, Super Nintendo and my Game Boy (the original, big white brick with a green screen. I still own it, it still works. Nostalgia rules!).
So who are the Black Mages?
Formed by Nobuo Uematsu, the Black Mages are essentially an instrumental band who do progressive metal versions of Final Fantasy soundtracks (Not that I'd recognize them anyway, I've never played the games). Video game music and prog? Yes please!
Overflowing with vibrant energy, excellent musicianship and lavish orchestrations, the Black Mages self-titled debut album is just a fun listen from start to finish. 'Those Who Fight Further', 'Clash on the Big Bridge', 'Fight with Seymour', 'Battle Scene' and 'Dancing Mad' are some of the highlights on this record, but in all fairness every song is pretty much an amazing musical adventure!
And the great thing is, I've never even played any Final Fantasy games! Just goes to show you don't need to be a fan of the source material to enjoy something.