Review by MartinDavey87 for Megadeth - Rust in Peace (1990)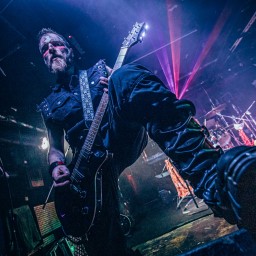 MartinDavey87
/
December 13, 2018
/
0
Ushering in what would become Megadeth's "golden era", 1990's 'Rust in Peace' was the album where all the pieces fit together perfectly. Dave Mustaine was sober (again... for now...), a new line-up was in place that was superior to any that had come before (and probably after...), and the music was a perfect bookend to the thrash metal scene that was on its last legs (for the time being...).
1988's 'So Far, So Good... So What!', with only a couple of notable songs and pretty rough production, was a bit of a disappointment, and with mainstream success on the horizon, it was time for the band to get their act together. With another new line-up change (their third over four albums), main man Mustaine and bassist David Ellefson were joined by drummer Nick Menza and guitar virtuoso Marty Friedman. And the difference is noticeable immediately.
'Rust in Peace' sees the band really step up the intensity and precision in their playing, with some of their most technical and relentless compositions. The chemistry between Mustaine and Friedman is incredible, with both men given ample time to shine, though it's Friedman's exotic guitar licks and ripping solos that truly raise the game for Megadeth. A much-improved production means that every note is crisp and clear, and with the 80's thrash boom coming to an end, this would at least ensure the subgenre would go out with a bang!
However, transcending the thrash genre and often cited as one of the best metal albums of all time, period, this is where I feel 'Rust...' tends to become slightly mired by hyperbole. Don't get me wrong, 'Holy Wars... The Punishment Due', 'Hanger 18', 'Tornado of Souls' and 'Rust in Peace... Polaris' are all absolute classics. And that's an understatement. These are truly some of metals finest and most endearing pieces, having stood the test of time and still being as impactful today as they were in 1990. But let's be honest with ourselves here... 'Five Magics'... 'Poison Was the Cure', even 'Dawn Patrol', which serves as a breather from the barrage of headbanging mayhem, are all fairly average tracks, and while they're not awful, they're not all that memorable, either.
This doesn't take much away from 'Rust in Peace', though. It's status as a classic metal album is fully warranted, and while I may not rate it as highly as most others, there's no denying that this is Megadeth's best, most beloved and most innovative work.