Review by Saxy S for Oranssi Pazuzu - Mestarin kynsi (2020)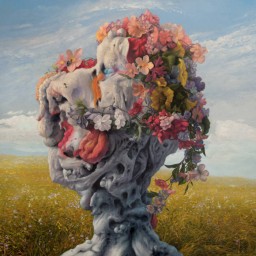 Saxy S
/
April 25, 2020
/
0
Oranssi Pazuzu have always been a group that has dabbled with psychedelia in their sound, but with the release of this new album, Mestarin kynsi, the band seems to have taken the full plunge into the world of psychedelic tendencies in their music that will be alienating to most.

Oranssi Pazuzu have essentially put themselves in a very selective category of black metal that consists of a band such as Schammasch; music that is still clearly black metal, but has been malformed and turned into something very different than that genre tag entails. These songs are broken up by extended minimalist and drone passages which are complimentary of the quasi-black metal sound. I do enjoy how some of these passages are built and naturally grow over time. The heavier sections are crunchy and super dissonant, helped by Jun-His' howls that harken back to a young Ishahn during the days of Emperor.

Unfortunately, with an album such as this, the production does seem to get in the way of the compositions themselves a few times. When you have an album trying to be this alien and dissonant, it is no wonder that volume does suffer, and some of the guitars are arbitrarily increased in the mix, rather than being given organic, dynamic swell from the performers, rather than the mixing board. In addition, those going into this album expecting a relentless black metal experience… you are not going to find it here. The fundamental core of the black metal sound is practically non-existent until the final track. The rest of the album, as I mentioned earlier, has all of the elements of black metal, but is distorted in a way that makes it almost unrecognizable.

As a result of this, I think that the people who will find Mestarin kynsi the most alienating are fans of Oranssi Pazuzu, or black metal fans in general. As someone who was unfamiliar with this group prior to this, I can say that in terms of dissonance and uncomfortability, I've heard far more gripping stuff, even within this niche subgenre. But I still cannot deny its quality.