Review by MartinDavey87 for Dream Theater - Images and Words (1992)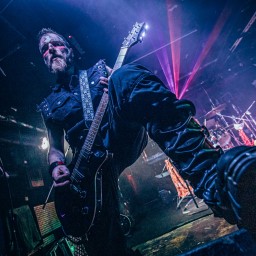 MartinDavey87
/
January 01, 2019
/
1
It was back in 2003 that I was looking in a Virgin Megastore (remember those?) with the noble intention of investing my money in a band I'd never heard before. These were before the days when YouTube and streaming were so easily accessible. When we had to take risks with our money to try out new artists. I had stumbled across an album by a band I'd only heard of in name, but that risk was about to pay off; Dream Theater.

Being a 16-year-old heavy metal fan at the time, raised on a healthy diet of groups such as Megadeth, Metallica, Kiss and Rammstein, my initial thoughts were, quite simply; "this album sucks". However, one thing piqued my interest, and it should come as no surprise that it was the amazingly heavy intro to the opening track, 'Pull Me Under'.

As I heard more and more, the album grew on me. All these random traits of progressive music were becoming clearer. Odd time signatures, long, complex arrangements, the eclectic mixture of styles, keyboards (a heavy metal no-no), the creative lyrics and massive instrumental sections... It all started to make sense. To this day, 'Images and Words' not only introduced me to a new style of music, but a whole new way of looking at music.

So what makes it so great?

'Images and Words' is an album that defined a genre. Without Dream Theater, progressive metal might never have become what it did. Coming at a time when the genre was in its infancy, Dream Theater had that intangible X-factor that bands like Fates Warning, Queensryche, and even a group like Rush, were all missing at that point.

There's a perfect combination of everything on this album. There's metal songs, there's ballads, there's funky songs and there's jazzy songs too. The musicianship came at a time when there weren't many bands displaying such incredible technical prowess, at least in the mainstream anyway. Every song is perfectly crafted, with interesting musical passages and mind-boggling lyrics. 'Pull Me Under', 'Take the Time', 'Learning to Live' and the monstrous epic 'Metropolis Pt. 1; The Miracle and the Sleeper' are all staples in prog metal history.

This is the record that put Dream Theater on the map, and defined all progressive metal bands/albums for years to come. Every fan of the genre needs this in their collection, immediately. And I'm sure most old-school progressive rock fans will at least appreciate the importance this album had on prog music as a whole. Undeniably my favourite album of all time, 'Images and Words' is better than perfect.