Reviews list for Acid - Acid (1983)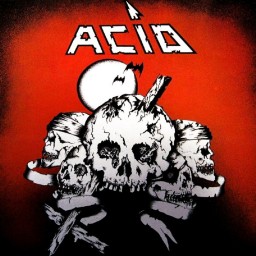 Acid were a five-piece speed metal outfit who formed in the city of Brugge in Belgium back in 1980 with their debut self-titled album eventually being released in 1983. It had been a while since the metal underground had heard any major contributions coming out of Belgium by that stage & we'd have to look back a few years to Killer's 1980 debut album "Ready For Hell" to find the last release of any significance. But there was more to Acid than just another run of the mill heavy metal band. Not only were they noteworthy for being amongst the very first speed metal outfits but they were also one of the few metal bands to include a female vocalist at the time which is interesting.
Acid's self-titled debut album was released in January 1983 & it featured a raw production that emphasizes the energy & enthusiasm of the young band & I feel that it perfectly embodies what Acid were trying to achieve. A cleaner production would likely have nullified some of the youthful exuberance that was one of Acid's main strengths in my opinion & the sound here offers the listener a much more honest portrayal of what the band were really about. You can still hear all of the instruments perfectly well but the rough edges are almost celebrated at the same time.
The musicianship on display is fairly basic & you're not going to be blown away by extravagant solos or overly technical riffs. That's not the point of this music. It's primarily focused on simple & traditionally structured songs at high velocity. Having said that though, drummer Anvill employs some impressive double kick work throughout the album & he was clearly heavily influenced by Philthy Phil Taylor from Motorhead in that regard. He just takes that element of Phil's playing & explores it a little more comprehensively than Phil ever did. Vocalist Kate is a really great front woman in my opinion. Her delivery achieves a beautiful balance of melody & aggression & has a noticeably bad ass quality to it that I find very appealing. She's the main drawcard for Acid really & if you like her you'll like this record. Her lyrics are really pretty childish & basic but that's obviously been contributed to by the fact that English was not the band's first language & I actually find this element to make Acid even more appealing as it adds an endearing quality to the overall package.
Not all of the songs here are flat out. There are a few more traditional heavy metal songs scattered across the tracklisting as Acid actually started out with a more traditional sound but the majority of the material is pretty much pedal-to-the-metal. Punk rock was unquestionably an influence on the band & that can easily be detected in the attitude that Kate exudes. But the primary influences I can pick up are Motorhead, Venom, Judas Priest & Raven which is not surprising as these bands are generally regarded as the Godfathers of speed metal. The tracklisting is very consistent with only one of the ten songs not appealing to me. These songs are simple & accessible but vicious & exciting at the same time. The only thing that's probably lacking is the inclusion of a couple of real classics as this is all good stuff but it likely won't find its way onto anyone's best albums charts. The very catchy "Hooked On Metal" is probably my pick of the bunch. It's not one of their faster efforts & sits more comfortably under the banner of traditional heavy metal but it's annoyingly catchy & infectious even though it is pretty dumb from a lyrical point of view. But then again… we're metalheads! When did we start caring about shit lyrics??
"Acid" is a fun, refreshing & engaging listen that should appeal to all speed metal fans.
Read more...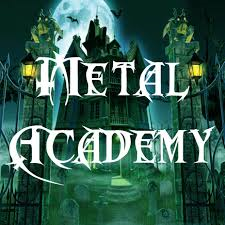 Daniel
/
May 13, 2019 09:07 PM