Reviews list for Skepticism - Companion (2021)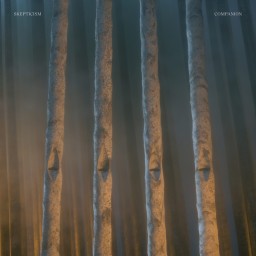 Skepticism's fifth album has been some time in the making - it has been thirteen years since the release of Alloy and there has been a lot of water under the bridge in the metal world since then (and also in the real world for that matter). It seems that Skepticism too have been changed by the past decade or so as Companion is a more multi-faceted release than we have come to expect from most funeral doom acts in general and Skepticism specifically. There is quite a variation in pacing, from the lethargic and seismic slowness of true funeral doom, through quicker, but still fairly slow death doom, to the medium-paced almost-death metal of Passage. It doesn't sound like much to the uninitiated, but it's a spectrum shift for a band whose previous work has focussed very much on glacial pacing. Each of the album's six tracks has a unique atmosphere and character like never before heard on a Skepticism album.
The keyboards and especially organ, in typical Skepticism fashion, play a key role in generating the album's atmosphere. It's there, full-on in your face straight out of the gate with opener Calla where it weaves an atmosphere that I would weirdly have to compare to a Saor track in it's sweepingly panoramic scope. The track sounds initially like it should accompany open-skied vistas of the Old West or the Caledonian Highlands - how un-funeral doom can you get? This is a great intro to the album however and gives a nice taster of the band's current direction. Second track, The Intertwined, has a gothic death doom feel to it that is quite reminiscent of classic era My Dying Bride and although I sometimes have my issues with gothic elements they aren't laid on with a trowel here and are subtlely enough applied to enhance the track rather than detract from it. The album's longest track, the ten minutes of The March of the Four, is probably the nearest to a traditional Skepticism track, but even this is delivered with a bit more "bite" than we have come to expect. The organ on this one, particularly during the intro, really does sound as if it was recorded as the mourners file into an actual funeral.
At the mid-point of the album Skepticism change up a gear to a previously unimagined tempo with Passage, a track that feels like it wants to explode into full-on death doom territory in the style of Winter or Autopsy. It also contains a breakdown with a swirling organ sound that feels like it should be the soundtrack to a descent into a psychotic episode from an Alfred Hitchcock movie like Vertigo. The Inevitable, like The March of the Four is more akin to previous Skepticism work and is, for me, the least remarkable track here. The Swan and the Raven however, begins in menacing fashion with a string intro that says "something evil this way comes" and once more has a kind of cimematic feel to it, which seems to be a recurring theme. This closer may actually be my favourite track - it is definitely the one where the guitar work shines through best and the synths feel alternately menacing and expansive.
Overall this is a terrific album that cements Skepticism's reputation as one of the premier funeral doom outfits who have decided to strike out in a new direction, not with a quantum leap but with an incremental change that shouldn't alienate their fan base.
Read more...
Sonny
/
October 03, 2021 05:49 PM