Reviews list for Flight of Sleipnir, The - Eventide (2021)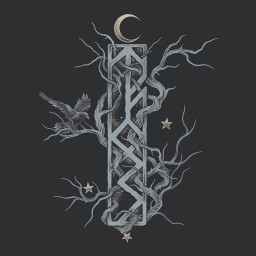 Flight of Slepinir have been a big favourite of mine since the release of their 2011 album, Essence of Nine. Eventide is their seventh album in twelve years, so they have proven themselves to be consistent performers for more than a decade. FoS have quite a distinctive sound, predominantly doom metal with a strong black metal influence especially, but not solely, in the vocal department - singer (and drummer) David Csicsely has quite an abrasive-sounding black metal shriek. The band also like to incorporate psychedelic elements into their music which often gives them a more positive vibe than you would expect from a band whose core sound revolves around black and doom metal. Previous album Skadi was, in fact, their most positive sounding release yet, even managing to feel quite laid back at times.
Eventide is quite a different release, and may be their heaviest album yet, focussing more on the doom and especially the black metal elements and pretty much eschewing any psychedelic influence for a much harder-sounding release. In fact, the only real concession to psychedelia is the first half of Harvest, which sounds like it could have been recorded by The Byrds in the Sixties.
The album's six tracks span just under three-quarters of an hour and all weigh in between six and eight minutes, so no track overstays it's welcome, but all are allowed to develop sufficiently. I really love the way they manage to transition so effortlessly and organically between the faster, more aggressive black metal and the slower doom passages. However, no matter which style they are employing at any particular time, most of the riffs are quite melodic and hook-filled - that riff they employ in Thaw is absolutely killer. This isn't at all the same kind of black/doom release you would expect from someone like Yith where they use the black/doom fusion to double down on the negative and hopeless atmosphere they create, but it is generally more about the riffs than creating any kind of atmosphere.
I'm really hoping this is some kind of breakthrough album for FoS because they are just so damn good it seems a shame that so few know or care about them and they definitely deserve to be more widely heard.

Read more...
Sonny
/
June 12, 2021 03:28 PM