Reviews list for PileDriver - Metal Inquisition (1984)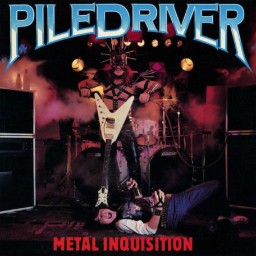 Metal Inquisition is one of the most egregious cash-in records ever released into the metalverse. The album was written by and all the instruments (including programmed drums) were played by Leslie Howe who was one half of synthpop duo One 2 One and was put out by Canadian label Cobra, purely with the intention of exploiting the explosion in metal's popularity of the early 80s and making some quick cash. The vocals were handled by the cover's cartoonish, masked maniac Mr. Piledriver (Gordon Kirchin). Now I know the late seventies and early eighties were the heyday of things like exploitation cinema, but this is taking that ethos a step too far for me (and I was ever the biggest fan of that style of movie-making anyway).

This type of blatant cash-grab is complete anathema to me and is reason enough for me to take against it by itself, but the lyrics of this album have got to be some of the most crass garbage it has ever been my misfortune to hear. And no, I don't need to lighten up as this goes beyond mere cheese (where would metal be without it) into the realm of infantile and, frankly, insulting to the intelligence of metalheads everywhere. The only reason I haven't furnished this with a very rare half-star rating is because Howe actually can play a pretty mean guitar and the sound is excellent. But aside from that I resent everything else about this album, even feeling a little conflicted about reviewing it and focussing even the slightest bit of attention on it. Shameful and embarrasing.
Read more...
Sonny
/
November 24, 2021 11:42 AM