Reviews list for Exodus - Fabulous Disaster (1989)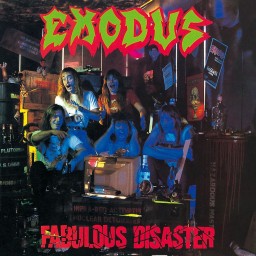 San Francisco Bay Area thrash metal legends Exodus fill a very important position in my musical journey in that they were the first band to prove to me that there was more to this extreme metal thing than just the Big Four. It would be Exodus' 1985 debut album "Bonded By Blood" that would be the catalyst for this moment of glorious realization & that record still maintains a permanent residency in my Hall of Metal Glory as the band's finest work to this day. This experience would see me further exploring Exodus' back catalogue with their current release at the time "Fabulous Disaster" being the next stop on the Bay Area thrash train, shortly followed by 1987's "Pleasures of the Flesh" sophomore album. Neither record would prove to be as classic as Exodus' unbelievable first-up effort but I really bought into what both albums were selling nonetheless & they went on to play a significant role in my early teenage years as a result. I've long suspected that perhaps I might be overrating "Fabulous Disaster" a touch based on the opinions of some of my more reliable peers though so now would appear to be a good time to reassess my position.
"Fabulous Disaster" was the second Exodus full-length to be fronted by former Legacy (aka Testament) vocalist Steve Souza with the remainder of the band having been together since "Bonded By Blood". As with "Pleasures of the Flesh", "Fabulous Disaster" was recorded at Alpha & Omega Recording Studio in San Francisco with house engineer Marc Senasac sharing the production duties with guitarists Gary Holt & Rick Hunolt this time after handling them solo on "Pleasures of the Flesh". Given Senasac's relatively minimal track record outside of Exodus, I'm guessing that he was an associate of the band. Perhaps they even pushed their new English record label Music For Nations to let them record with him at their local studio again. I dunno but the album sounds pretty good nonetheless. It has that unique Exodus guitar crunch that I love so much. There just seems to be more weight & depth behind their riffs than most other thrash bands can muster & it's a major drawcard for me being a metal guitarist myself.
Where "Bonded By Blood" was a total thrashfest from start to finish, "Fabulous Disaster" sees Exodus now exploring their creative urges with each track possessing its own unique personality while still staying true to their thrash metal roots. It's got enough high-intensity violence to satisfy the old-school but enough hooks to entice a new audience into the fold too. Steve Souza's snarly vocals are a real highlight & when he gets things right (see "The Toxic Waltz" & "Corruption" for example) he gives Exodus a sarcastic yet no less aggressive attitude that I find really appealing. In fact, I'd suggest that he's probably my favourite of Exodus' three front men. The other highlight is clearly Holt & Hunolt's ability to create thrash metal riffs of the highest quality & even today I still find my mind going back to these early Exodus albums when I think of great thrash rhythm guitar work. The duo's guitar solos are perhaps a little more expressive & expansive than we'd heard from them before though. They try things that are a little out of the ordinary & it doesn't always work but it creates an additional point of interest nonetheless. If pushed, I'd probably just prefer that they dropped the fluff & put the pedal to the metal to tell you the truth.
The album kicks off with an absolute belter in "The Last Act of Defiance", a track that I regard as not only the high point of the album but also as one of the finest anthems of the Bay Area scene as a whole. It's full to the brim with violence & vitriol which is exactly what I want from an Exodus song. This is followed by the title track which is a touch more accessible but possesses some quality hooks that keep the quality level running high. "The Toxic Waltz" makes up a perfect trio to start the tracklisting & has rightfully gone on to become one Exodus' most treasured tracks. Souza's cheeky lyrics & attitude are to die for while the riffs are simply mosh pit heaven. At this stage of their initial listen I'd suggest that most thrash fans would have been gearing themselves up to dish out some of their highest ratings but unfortunately the remainder of the tracklisting isn't quite as consistently impressive, despite still holding some excellent Exodus material. A misguided cover version of War's "Low Rider" is the only genuine failure & would seem to have been included merely to fill in time along with another cover version of AC/DC's "Overdose" which is admittedly pretty good but sits much closer to hard rock than metal so it sounds more than a little out of place at the end of a predominantly thrash-focused record. The original material is all pretty good with the slower & lengthier "Like Father, Like Son", the middle-finger-in-the-air rebellion of "Corruption" & the firey up-tempo thrashfest that is "Open Season" all being particularly strong. The southern slant to "Cajun Hell" is interesting enough to keep my attention but clearly isn't peak-time Exodus while the angular, groove-laden riffage of "Verbal Razors" very obviously shows the impact they had on peers like Pantera.
As you can probably tell, the stronger material is clearly in the ascendancy here & it results in a strong & muscular album that I regard as being Exodus' second-best full-length these days, just edging out records like "Pleasures of the Flesh" & 2005's "Shovel Headed Kill Machine" & comfortably eclipsing their very popular 2004 comeback album "Tempo of the Damned". It's a shame that Exodus have never been able to put it all together consistently enough to deliver a record that compares favourably with their first-up effort "Bonded By Blood" but that's not to say that I won't happily take an album like "Fabulous Disaster" every day of the week given that it ticks all of my Bay Area thrash boxes. Fans of bands like Overkill, Testament & Death Angel should regard it as essential listening.
Read more...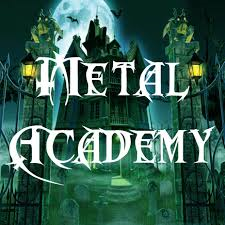 Daniel
/
October 02, 2023 12:10 AM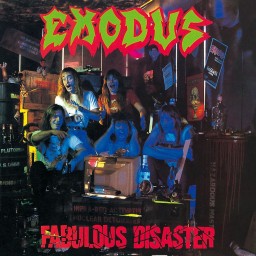 In terms of gateway albums into a band there are clearly better yet much worse places start with Exodus other than Fabulous Disaster. However, for all the acknowledgement that the ten tracks here or not all the pinnacle of the band's output over the years, as this was the first album of theirs that I ever bought on vinyl then there is some cover provided by nostalgia here to brush away the fact that the content is not all perfect.
Were it not for the unnecessary War cover of Low Rider the first side of this album would be otherwise perfect. Even the ropey structure of album opener Last Act of Defiance still somehow triumphs overall and the frenzied attack of the title track, Toxic Waltz and Cajun Hell make for a superb opening half of the album. Whilst there is a definite tail off in quality during the second half with a hit and miss structure being deployed at the same time the success of Verbal Razors cannot be denied with its groove metal like riff being a real standout in the latter section of the album. Yes, Like Father, Like Son is not very well written or executed and Open Season is way too simplistic a track but the infectious Corruption is a killer track that manages to propel the album forward in a positive direction. Putting two covers on a record is a bold move but they pull off AC/DC's Overdose really well to end the album on a high note.
Following up Pleasures of the Flesh was always going to be toughie and whilst Fabulous Disaster is far from being a failure I recognise it to be a step down in quality from the first two albums. I still love it though, largely due to the fond memories of throwing myself around my room to Toxic Waltz as a teenager stopping only to laugh at that appalling cover photo.
Read more...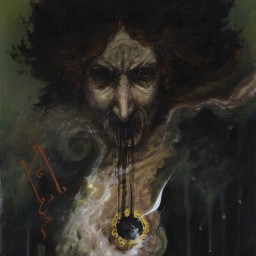 UnhinderedbyTalent
/
May 19, 2019 07:04 PM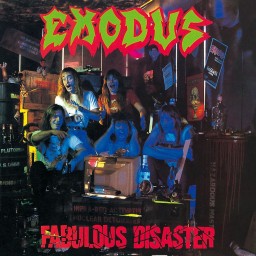 I've always been part of the camp that thinks Exodus are overrated. I think the main reason for this is that I prefer my metal to be dark and for the most part serious. What Fabulous Disaster proves without a doubt is that Exodus know how to create fun, but ultimately silly, thrash metal. There are obviously heaps of fans out there they crack open a beer and jump up and down, moshing their head to this stuff, but I guess I'm just not one of them.
Once again, I enjoy a few tracks like Fabulous Disaster, Like Father, Like Son and even The Toxic Waltz in a strange way, but overall, I find most of the album to be average. Open Season, Corruption and Cajun Hell just pass by without grabbing my attention, and Low Rider and closer Overdose add perfectly to my collection of cover versions I really could have done without, particularly as Zetro's vocal style sounds almost identical to AC/DC's singer Bon Scott. Overall, I think that Exodus play decent thrash metal that's easy to listen to while never really reaching the quality of some of the better bands like Slayer, Metallica, Coroner and Kreator.
Read more...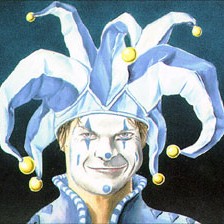 Ben
/
April 29, 2019 09:23 AM