Reviews list for Exodus - Fabulous Disaster (1989)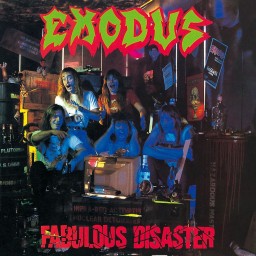 In terms of gateway albums into a band there are clearly better yet much worse places start with Exodus other than Fabulous Disaster. However, for all the acknowledgement that the ten tracks here or not all the pinnacle of the band's output over the years, as this was the first album of theirs that I ever bought on vinyl then there is some cover provided by nostalgia here to brush away the fact that the content is not all perfect.
Were it not for the unnecessary War cover of Low Rider the first side of this album would be otherwise perfect. Even the ropey structure of album opener Last Act of Defiance still somehow triumphs overall and the frenzied attack of the title track, Toxic Waltz and Cajun Hell make for a superb opening half of the album. Whilst there is a definite tail off in quality during the second half with a hit and miss structure being deployed at the same time the success of Verbal Razors cannot be denied with its groove metal like riff being a real standout in the latter section of the album. Yes, Like Father, Like Son is not very well written or executed and Open Season is way too simplistic a track but the infectious Corruption is a killer track that manages to propel the album forward in a positive direction. Putting two covers on a record is a bold move but they pull off AC/DC's Overdose really well to end the album on a high note.
Following up Pleasures of the Flesh was always going to be toughie and whilst Fabulous Disaster is far from being a failure I recognise it to be a step down in quality from the first two albums. I still love it though, largely due to the fond memories of throwing myself around my room to Toxic Waltz as a teenager stopping only to laugh at that appalling cover photo.
Read more...

Vinny
/
May 19, 2019 07:04 PM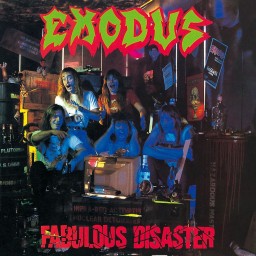 I've always been part of the camp that thinks Exodus are overrated. I think the main reason for this is that I prefer my metal to be dark and for the most part serious. What Fabulous Disaster proves without a doubt is that Exodus know how to create fun, but ultimately silly, thrash metal. There are obviously heaps of fans out there they crack open a beer and jump up and down, moshing their head to this stuff, but I guess I'm just not one of them.
Once again, I enjoy a few tracks like Fabulous Disaster, Like Father, Like Son and even The Toxic Waltz in a strange way, but overall, I find most of the album to be average. Open Season, Corruption and Cajun Hell just pass by without grabbing my attention, and Low Rider and closer Overdose add perfectly to my collection of cover versions I really could have done without, particularly as Zetro's vocal style sounds almost identical to AC/DC's singer Bon Scott. Overall, I think that Exodus play decent thrash metal that's easy to listen to while never really reaching the quality of some of the better bands like Slayer, Metallica, Coroner and Kreator.
Read more...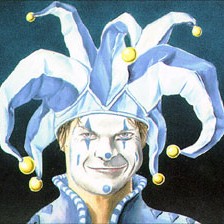 Ben
/
April 29, 2019 09:23 AM